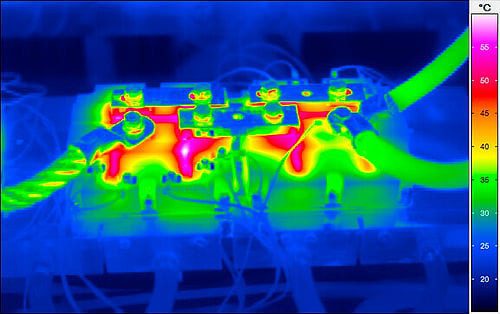 Thermography is using infrared imaging science, be it thermal imaging, thermal video or other techniques to identify and measure heat distributions in specific areas.
Thermographic surveys (aka testing) are proficient in detecting tumours in the body, but in another realm, it can also be used to identify hot spots or components within an electrical switchboard in a commercial environment.
In a nutshell, commercial thermographic surveys can identify accidents or electrical emergencies before they happen, so you have the time and knowledge to prevent them from happening.
Want to know more about thermographic surveys and if your business needs one?
Read more from the Perth commercial electricians at Wacomm to find out.
What is the purpose of a thermographic survey?
As part of essential maintenance for your commercial electrical systems, thermographic surveys reduce the risk of dire equipment failure, infrastructure damage and most importantly, loss of life.
A higher than average temperature picked up by a thermographic survey is indicative of an electrical system or appliance that could result in major consequences if left alone.
What are the reasons for abnormal temperatures?
Equipment fatigue
Faulty equipment
Loose connections
Overloaded sockets.
Make thermographic surveys a part of your ongoing and routine maintenance to ensure your electrical systems, and in turn, your business, stays in overall good health.
Your trusted Perth commercial electrician will be able to conduct a quality thermographic survey on your business.
How does a thermographic survey work?
No doubt an image comes to mind when you think of thermal imaging – probably a smattering of blue, yellow, orange and red. Now, let's see how they really work, as completed by a Perth electrical contractor, in a commercial space.
Thermographic surveys produce a series of high-quality, thermal images that will highlight any defects – potential or real-time.
The hottest areas are yellow in appearance, which indicate a hot spot that requires attention.
Cool areas, that is those that don't need attention, appear blue in colour.
What electrical equipment can be included?
Talk to your trusted Perth commercial electrician about any electrical equipment you have concerns about. Has it changed in function recently? Is it hot to touch?
We can test the following:
Main distribution boards
Consumer and mains units
LV transformers and control panels
Motors and integrated wiring systems.
Your Perth electrical contractor will be able to easily and thoroughly identify any problem areas.
Do I need a thermographic survey for my business?
In a commercial or industrial environment, most insurance companies insist on getting a professional to carry out thermographic surveys to ensure there's no major risk posed by your electrical infrastructure.
Fortunately, thermographic surveys these days are more accessible and affordable than a few decades ago. This means it's so incredibly easy to ensure your business and it's electrical systems are safe, functional and enhanced.
Wacomm are your team of Perth commercial electricians and electrical contractors who can carry out thorough thermographic surveys on your site.
Need a commercial electrician in Perth?
Contact Wacomm today for a reliable commercial electrical contractor to complete thermographic surveys and service other electrical needs.